Pangolin London are delighted to be hosting a weekend long series of talks, tours, discounts and competitions to celebrate the first ever London Gallery Weekend.
As passionate advocates for the arts, we have curated two themed tours to complete throughout London Gallery Weekend.
TOUR ONE
Our first themed tour explores London's best sculpture galleries!
Starting at Pangolin London Sculpture Gallery in Kings Cross we recommend you then head to:
Sladmore Contemporary, 32 Bruton Pl, London W1J 6NW, to see their beautiful 'Beyond Bronze' exhibition.
Make sure not to miss the incredible 'Rachel Whiteread' exhibition at:
Gagosian, 20 Grosvenor Hill, London W1K 3QD.
Its your last chance to catch it!
Then onto:
Hignell Gallery, 12-14 Shepherd St, London W1J 7JF
To explore their beautiful range of sculpture.
And finally:
Thomas Dane Gallery, 3 and 11 Duke Street St James's, St. James's, London SW1Y 6BN
To take in Michael Landy's Break Down: 20 Years - an archive installation.
Click here to view the route mapped out in Google Maps.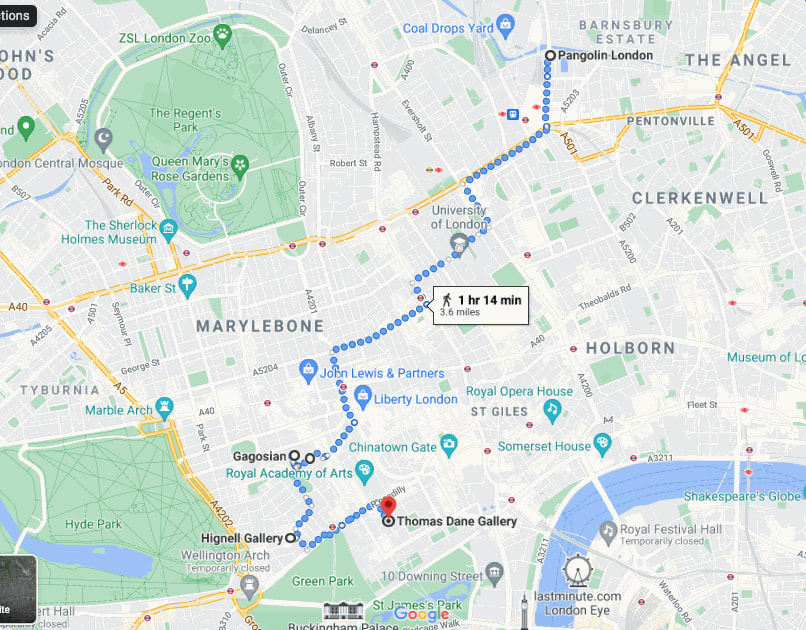 TOUR TWO
Tour two celebrates the best galleries and shows East London has to offer!
Start your day at:
Gagosian, 6-24 Britannia St, London WC1X 9JD
To see Damien Hirst take centre stage in his latest show.
Then onto:
Pangolin London Sculpture Gallery, Kings Place, 90 York Way, London N1 9AG
to take one of our free tours and take advantage of our 10% off all catalogues.
After Pangolin London, head along Regent's Canal towards Angel.
Make sure to stop for a canal side coffee at:
Canal No 5, Towpath The Regent's Canal, London N1 8PZ
After refilling at Canal No.5 head to:
Victoria Miro, 16 Wharf Rd, London N1 7RW to catch their new exhibition:
Yayoi Kusama: I Want Your Tears to Flow with the Words I Wrote
Once finished, we recommend taking a Lime Bike along to the incredible
Hales Gallery, Tea Building, 7 Bethnal Green Rd, London E1 6LA
For their sensational Mary Webb show!
Round off your day celebrating the best galleries in East London by visiting:
Maureen Paley, 60 Three Colts Ln, London E2 6GQ
and
The Approach Gallery, 1st Floor, 47 Approach Rd, Bethnal Green, London E2 9LY
Click here to see the route mapped out on Google Maps.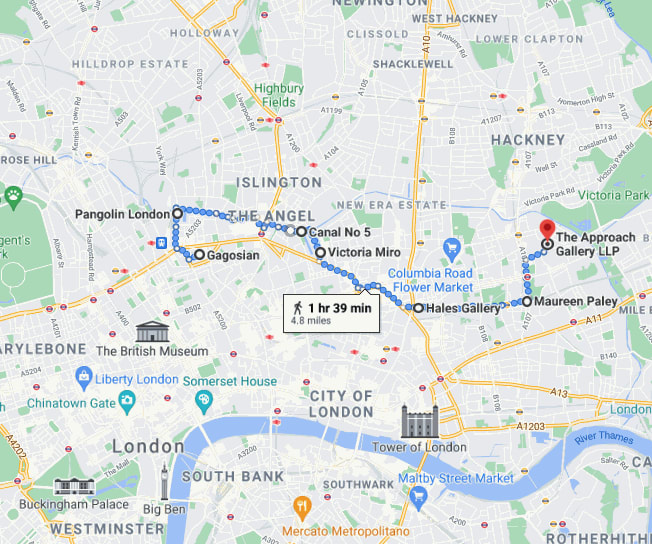 May 27, 2021