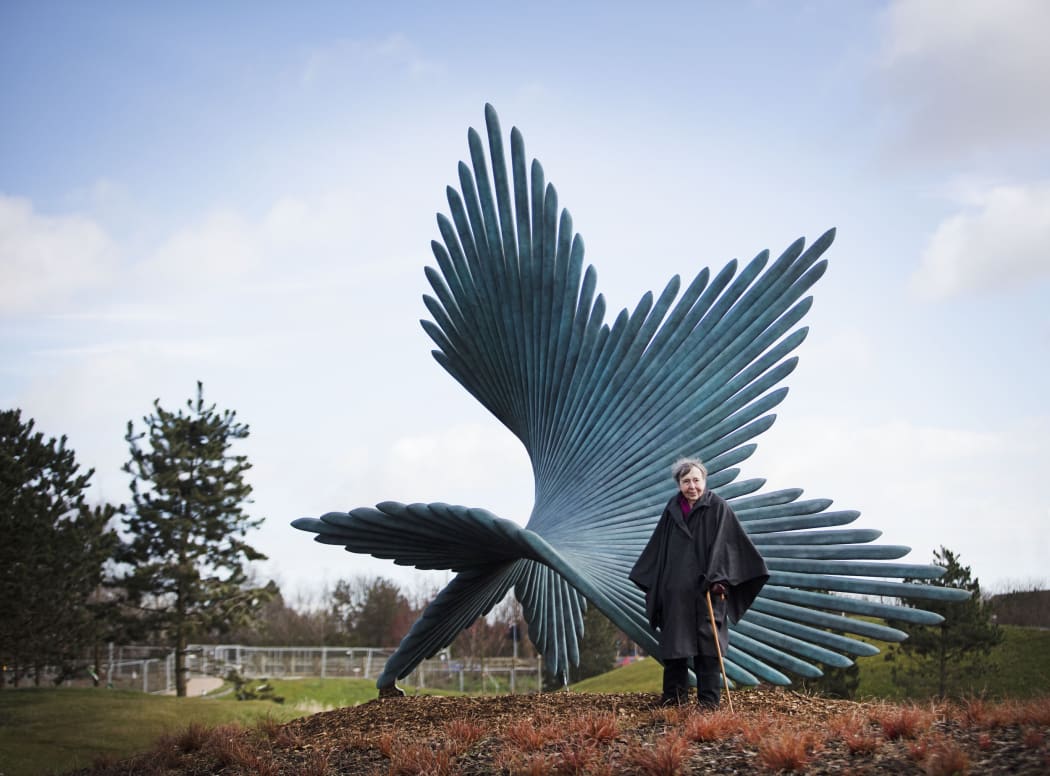 It is with our greatest sadness that we report the passing of the inspirational sculptor Charlotte Mayer on the 9th November aged 93.

Born in Prague in 1929 Charlotte Mayer (nee Fanta-Stutz) was captivated by natural forms and sculpture from a young age thanks to the influence of her grandparents who were important cultural figures in 1930s Prague and regularly held informal salons for writers, artists and musicians at their home 'Das Rosel Haus'.

In April, 1939 a month after the German Army had entered Prague and with tensions mounting, Charlotte – aged just ten – left on a train bound for Holland with her mother, on the precarious pretence of a wedding. Spending a week in Amsterdam, they travelled to England to begin their new lives as refugees. With little English to communicate and the looming spectre of war these early years were not without their challenges thanks to bullies at school and a nomadic refugee existence moving around the country. Corresponding with family back in Prague was extremely difficult and suffered a terrible blow when Mayer's beloved grandmother was sent to the death camp Treblinka in 1942.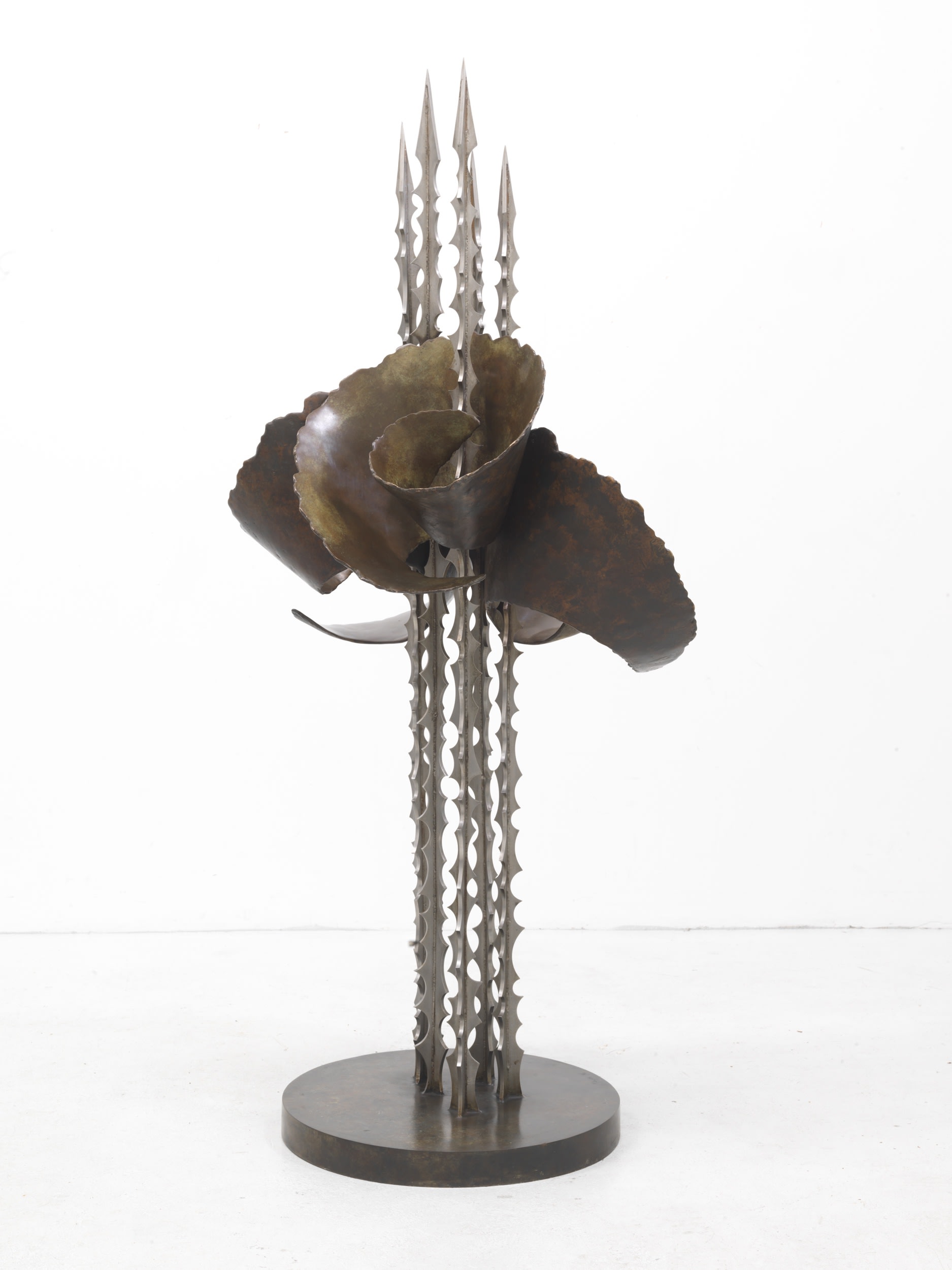 Charlotte Mayer, Thornflower, 2006, Bronze and Stainless Steel.
One glimmer of light in these difficult times was a stay in Ambleside, during which her high school teacher recognised her artistic talent and recommended she apply to Goldsmiths. There she enjoyed two years studying as a Fine Art student making predominantly figurative work and portraits in clay and plaster. Accepted onto the sculpture course at the Royal College of Art in 1950 Mayer found a different environment where an intense misogyny towards women sculptors still reigned.

Determined to ignore this, Mayer focused on her work under the tutelage of Frank Dobson, John Skeaping and the wood carver Heinz Henghes a German émigré who had been a protégé of Isamu Noguchi. Mayer learnt to experiment with natural materials incorporating bull rushes into plaster for texture or carving large chunks of Yew – an approach which inspired her use of a wide range of natural materials in her later work.

Whilst at the Royal College of Art Mayer met her future husband the ambitious young architect Geoffrey Salmon whom she married in 1952. The following year Mayer completed her first public commission 'Mother and Child' in carved alabaster for the maternity wing of Epsom General Hospital. To her delight she soon became the mother she had depicted in the commission with the birth of her son Julian who was followed by twin daughters Louise and Antonia in 1959.

Whilst Mayer temporarily paused her career in exchange for family life, by the mid 1960s Mayer's sculpture stirrings had returned and a highly influential trip to New York with her mother in 1967 inspired a series of sleek new works titled Black Cities. Energised by seeing the skyscrapers of Manhattan in the snow she focused on this series for the next five years – first in painted wood and then, having enrolled herself on a welding course, in stove enamelled steel.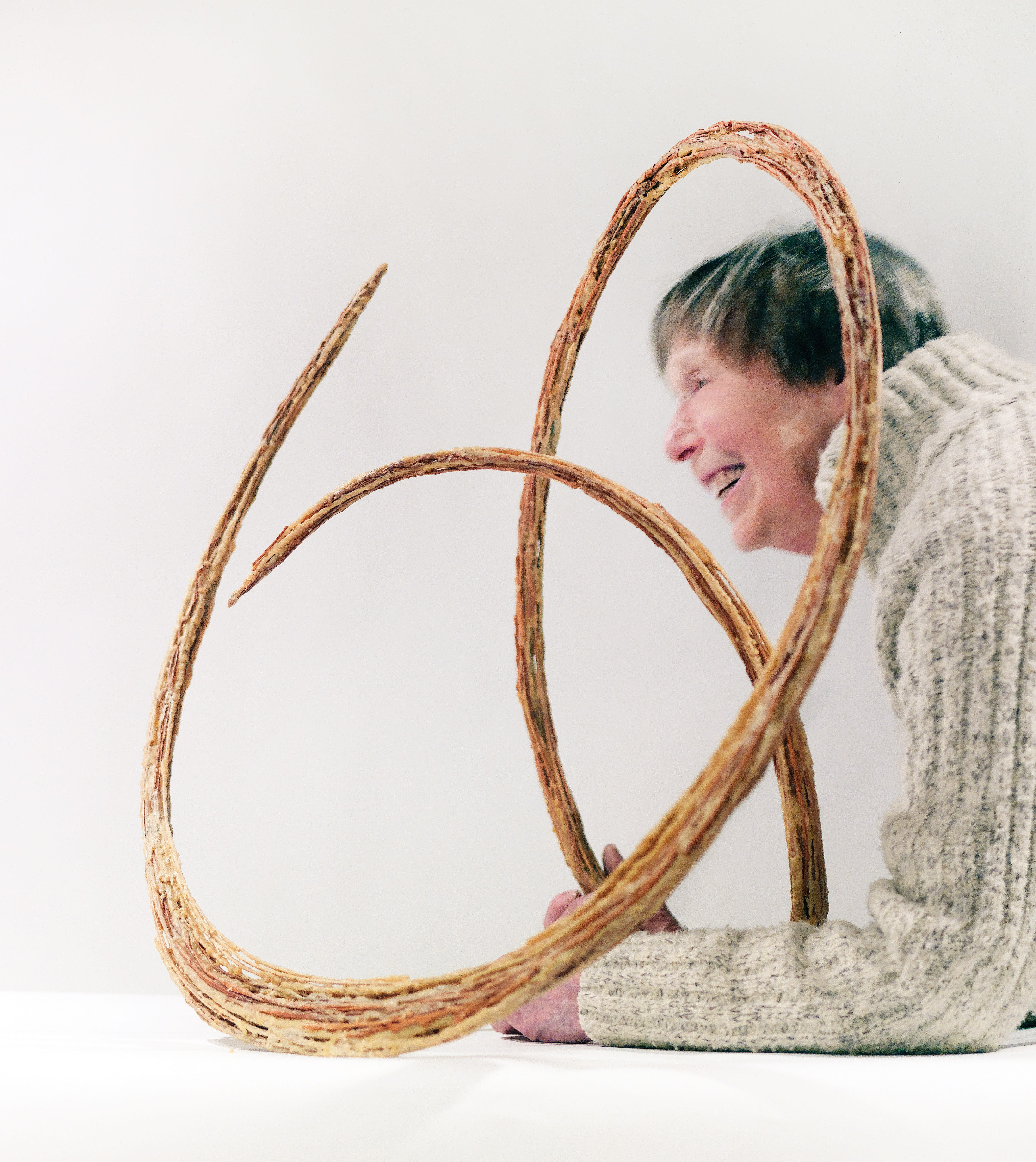 Charlotte Mayer with her sculpture Release, 2012, Bronze.
Driving along the Embankment one day in the early 70s Mayer was struck by the smoke billowing from the chimneys of the iconic Battersea Power Station and immediately returned home to make a sculpture inspired by the rings of smoke. This began a long-lasting interest in circular and spiral forms elegantly poised in space and often inspired by the natural world.

Practicing meditation for over fifty years also provided a rich source of inspiration and helped Mayer to see the forms of work in her mind's eye before creating them in her studio in Highgate. In an interview Mayer emphasised the importance of meditation in her practice saying: "One realises meditation isn't just sitting still - it's more than that. You can have movement in stillness."

Whether working at monumental scale for her varied public commissions or in miniature for her jewellery, Mayer's work carries an innate elegance, strength and poise that makes her pieces instantly recognisable. The sculptures have a calm stillness combined with a visceral energy which is powerfully yet quietly communicated.

As Tom Flynn, the author of Mayer's monograph 'In Essence' describes:

Many of the works Mayer has made over the years seem to speak with extraordinary clarity to those who have suffered pain or loss in their lives. The healing quality that certain objects possess defies easy explanation. In Mayer's case it is surely a combination of her choice of iconography, her ability to conjoin contrasting formal elements, her facility at selecting the right surface finish for the materials she uses, and an instinct for suggesting the essence of something ineffable and beyond language.
Charlotte Mayer, Solar II, 2020, Bronze.
Charlotte will be much missed at both Pangolin galleries and at Pangolin Editions where she cast her work for over thirty years. Three weeks before she passed away I visited Charlotte to discuss her forthcoming exhibition at the gallery next year. As always Charlotte astounded me by showing works in the studio she had just made at the grand age of 93 that were full of fresh vitality. Our exhibition will be a celebration of her extraordinary life and work and we look forward to welcoming you then.

Charlotte Mayer is survived by her two daughters and her grandson.

Polly Bielecka
Gallery Director
Pangolin London Sculpture Gallery
---
Let us make a thing of beauty
That hungry souls may feast upon;

Whether it be wood or marble,
Music, art or poetry,
Let us make a thing of beauty
To help set man's bound spirit free.
Edward Matchett
A poem referenced by Charlotte Mayer for its importance to her work in an interview with Melonie Gault for the exhibition 'The Space Between' in 2019 which you can read
here
.
---